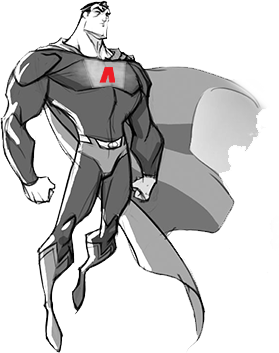 Bitter
-

Sweet 16

Determined Afconians constructing 16 bridges for USBRL project, in J&K, display extreme resilience to grind out harsh winters

"Winters in Jammu & Kashmir are breath-taking if you're on a vacation. Not when you are battling the odds every single day of your life. As we enter November, the uncertainty of the coming months brings chills down the spine. The challenges surrounding every activity only multiply this time of the year. Though we continue to make progress, sometimes, the going gets so tough that milestones are cold comfort."

The harsh words of Subhash Chandra Satpathy, HSE Head, hit like the cold winds of the region. "Nature isn't a friend here. The average wind velocity is six kmph, with temperatures falling below four degree centigrade during November-December," he says.

Echoing Satpathy's sentiment, Project Manager Alimila Sagar says, "Very few infrastructure projects in India are as challenging as this one. It is spread across four uninhabitable locations in the Himalayas. To paint a picture, it's just hills, valleys and forests - as far as your eyes can see and your mind can imagine."

This is no exaggeration. The 16 Bridges for the Udhampur Srinagar Baramulla Railway Link (USBRL) project are spread over 250 kms in India's northernmost state. Peppered across four isolated locations in the unpredictable Pir Panjal range, once ready, this project will connect the remotest areas of J&K to the mainland.

The soil strata in this young mountainous region are highly varying - hard soil at Reasi and Bakkal, boulder soil at Kauri and soft soil at Sangaldan – making it tough to zero in on execution methodologies and choice of equipment. Landslide-prone steep approaches, especially at Kauri and bridges 85 and 87 at Sangaldan, made mobilising resources nearly impossible.

"Uncertainty is the order of the day. One never knows how the weather and geology would be like. Lionhearted Afconians have not only kept the project running but also made sure the areas around are developed. People, who had no exposure to the outside world, now have opportunities to work, study and travel outside of their hamlets," adds Sagar.

"This project is the best teacher possible," Satpathy is quick to add. "Rather than cracking under pressure, the team made every challenge their strength. We learn something new every day. To give you an example, at one of our locations when we deployed a 90m Access Ladder, we made provisions for drinking water and refreshment at the top to eliminate frequent usage of the stairway. Simple solutions such as this have gone a long way to ensure better efficiency and safety," he explains.

Meanwhile, Ali Mohammad Dar, Manager - Fabrication and Erection, who is overseeing the launching operations, says patience is the key to progress. "This project is a glowing example of the power of positivity. We always look at the bright side. Launching activities are unhindered here. Imagine doing this in an urban area!" he quips.

Dar also credits Afcons' rich repertoire, which makes complex projects such as this a reality. "Incremental launching at these bridge locations is part of our routine now because of the lessons learnt from Chenab Railway Bridge. Incremental launching on Himalayan terrain was attempted at the first time by Afcons for that project. Every lesson learnt there has proven to be a strength here," he emphasises.

For the team, which has made loneliness and uncertainty its friends, the greatest takeaway is the goal that is now well within sight. "Ever since I assumed the mantle of this project, my team has backed me every step of the way. Co-ordination for this scattered project - lack of which at any point could bring it to a grinding halt - has been my team's greatest strength. We are taking long strides towards our goal because for the team, the glass is always full," Sagar signs off.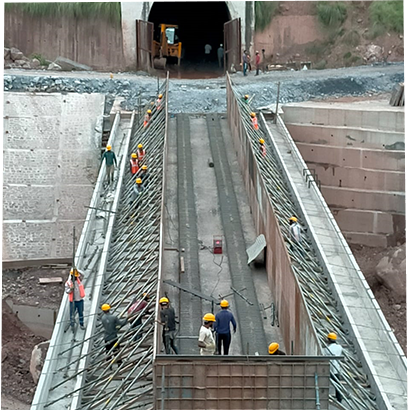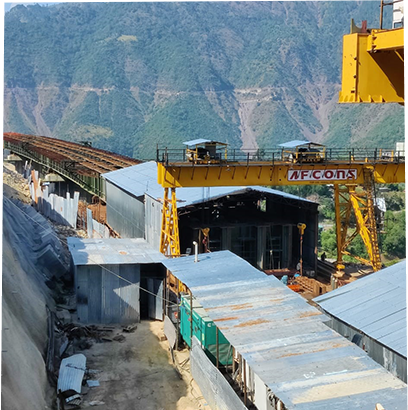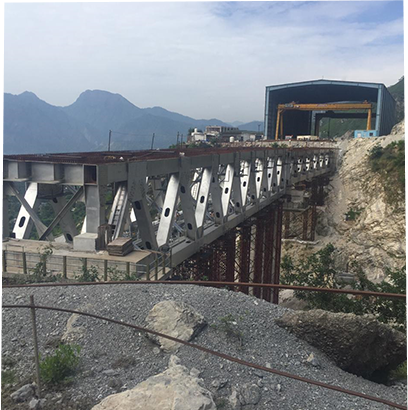 Inactive